05.20.2004 - Color Palette Creator
Via Simon Willison, I read with great interest a color palette creation tip on Andy Clarke's site. It details creating a 250x100 canvas in Fireworks or Photoshop, creating two 250px by 50px layers, one white and one black, then creating ten 50px by 50px layers, five at the top and five at the bottom, giving them all the same color and then adjusting their opacity in a uniform manner to create a palette of shades of the base color.
A really fantastic tip - but one I am far, far too lazy to implement as described.
As such, I've written a small web based application that does just that. Supply it with a base color in hex format and it will figure out all the opacity stuff and give you the hex values (and the RGB values in the tool tip) of all the colors generated. It looks like this: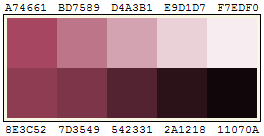 I'm calling it the Color Palette Creator. Thanks to Mr. Clarke for the inspiration. As always, let me know if you encounter problems -- suggestions are welcome.
Incidentally, according to my database, this is the 100th "experiment/tool/thing" to be published on slayeroffice. That's an awful lot of "horribly awry" if you ask me.
Steve,
That is an inspired and useful adaptation! It is a great piece of work. (And you can quote me on that!)
Posted by Malarkey on May 21, 2004 @ 8:28 am
---
This is a great tool. I often need to have different shades of the same color when doing web pages. A nice added feature to this tool would be to have some base colors that a person could click on to fill in the hex value textbox. It would be faster than having to type in the hex value and not everyone knows the hexidecimal number for all the colors.
Posted by Benoli on May 21, 2004 @ 1:41 pm
---
You're a friggin genius.
Got to this site via 'stuffandnonsense' and it's been a pleasure looking around at the experiments.
Posted by bofe on May 22, 2004 @ 6:00 am
---
Excellent work! Thanks for sharing this with everyone.....I agree, you are a genious.
Posted by Gordon Mackay on May 24, 2004 @ 5:10 pm
---
Congratulations! 100 experiment/tools/things is wonderful. WTG! :)
Posted by Melissa on May 30, 2004 @ 2:08 am
---
Comments have been closed for this post.
---